Symantec Secure Site Pro EV
The most trusted and secure choice for Web site security helps attract more customers to your site and gives them the confidence to complete their transactions, while enabling the strongest SSL encryption available to the most site visitors. Symantec Secure Site Pro with EV includes premium SSL and more in a single solution:
Extended Validation triggers the green address bar in high security browsers
Up to 256-bit encryption with 128-bit minimum enables strong encryption for the most site visitors

NEW!

Symantec Trust™ Seal with Symantec Seal-in-Search™ maximizes click-through and conversions

NEW!

Daily Web site Malware Scanning shows customers you are committed to keeping them safe
7-day money back guarantee
Plus: free 24/7 customer support, SSL Installation Checker, free revoke and replace, and a $250,000 warranty
SSL and More in a Single Solution

Symantec Secure Site Pro with EV offers more than the most trusted and secure SSL for your online business. We help drive traffic to your site and reduce abandoned transactions. Our premium SSL Certificate, the Symantec Trust Seal, Seal-in-Search technology, and daily Web site malware scanning work together to help assure your customers that your site is safe from.
Customers Gain Confidence with the Green Address Bar

Online shoppers recognize the green address bar as an easy and reliable way to verify the site identity and security. Only SSL Certificates with EV trigger high-security Web browsers to display your organization's name in a green address bar. More confidence means more conversions for Symantec EV SSL customers who enjoy an average uplift of 17.8% (based on 32 case studies in 11 countries).
Customers Worldwide Know and Trust the Symantec Seal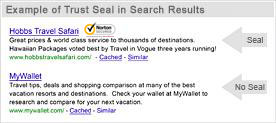 The Symantec seal, the most trusted mark on the Internet, is viewed up to 250 million times a day on more than 90,000 Web sites in 160 countries. Symantec Seal-in-Search displays the Symantec Trust Seal next to your link on browsers enabled with a free plug-in as well as on partner shopping sites and product review pages. The seal differentiates your link in search and shows that malicious code has not been detected in a daily malware scan.
The Strongest Encryption Available - Always - Protects Transactions
Standard SSL Certificates enable a minimum of 128-bit and up to 256-bit SSL encryption. Certain older browsers and operating systems will achieve only 40- or 56-bit encryption unless there is a Server Gated Cryptography (SGC)-enabled certificate on the server. Symantec Secure Site Pro with EV is an SGC-enabled SSL Certificate, enabling 128- or 256-bit encryption for over 99.9% of Internet users.
NEW! All Symantec SSL Certificates now include these valuable features below:

Symantec
Seal-In-Search™
The most recognized trust mark now appears in search results

Daily Web Site
Malware Scanning
Early detection helps reduce risk of search engine blacklisting

Symantec
Safe Site™
Extends the Symantec seal to a new level of trust: A $299 value
We offer monthly, yearly and multi-year pricing to meet your needs!
An easy and reliable way to establish trust online
If your organization is in a competitive industry and business growth rests heavily on the volume of transaction completions on your Web site, you should consider Symantec Secure Site with EV.